Holiday gift guide for him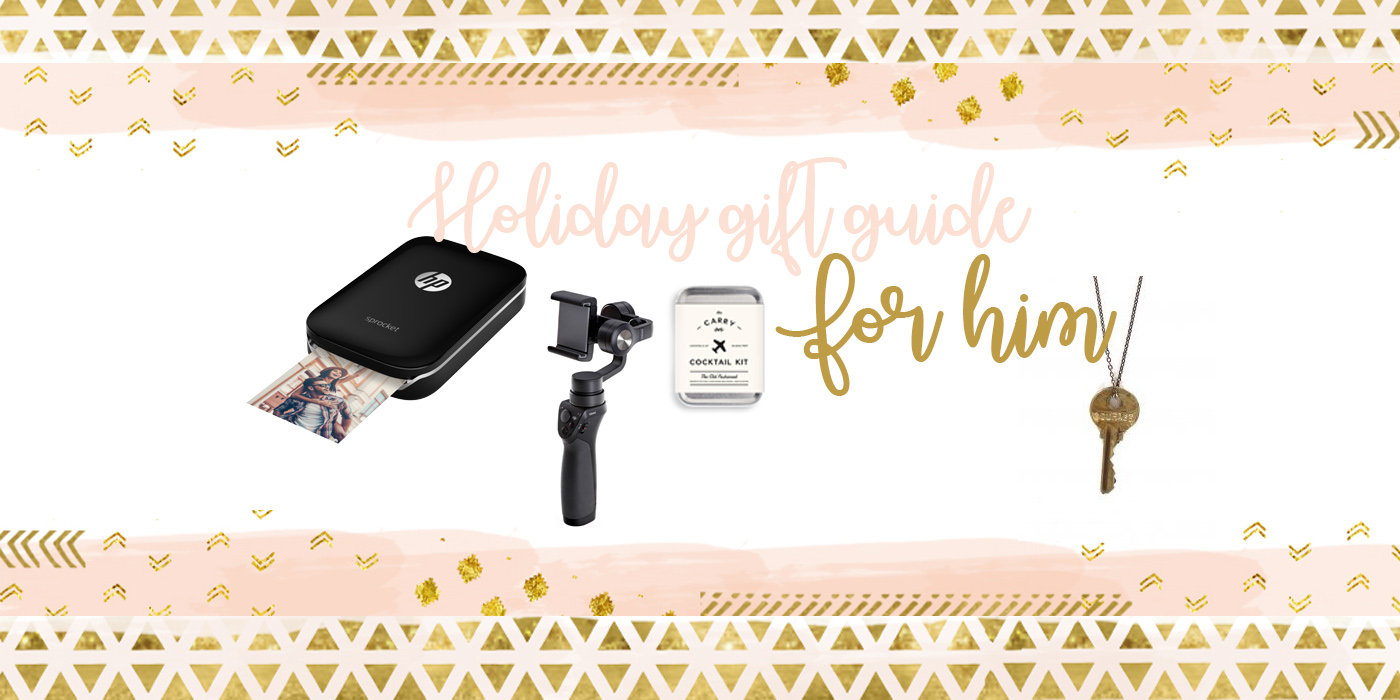 Hi everyone, today's blog is a holiday gift guide for guys. I hope you get some last-minute inspiration for a gift for your boyfriend, dad, brother, … Let's get into it!
The gift guide
I combined all the gifts that I ever bought for my boyfriend and some products that he would like to have.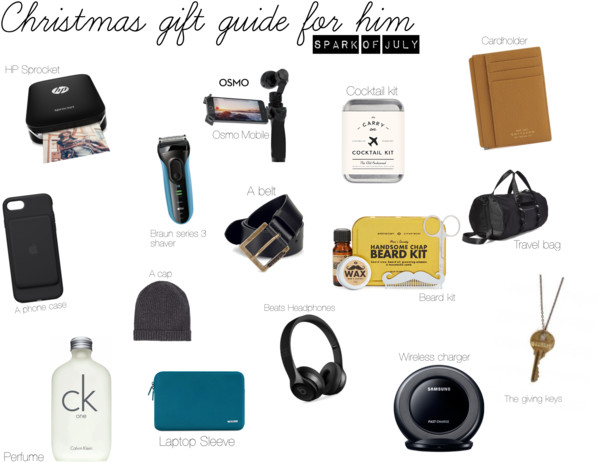 The products
The products range from 10 euro to 300 euro. There are travel gifts, fashion gifts, beauty gifts and tech gifts!
Travel gifts
There are four gifts that you can give to a travel lover. The best thing about these gifts is that you can also use them when you're not travelling. The first gift is a cardholder which is very handy when you're travelling or just on a daily basis. Guys don't like to carry around a big wallet, the smaller, the better! The next gift is a travel bag which they can also use as a sports bag. The next thing is a beard kit, with this little kit they can have a neat beard wherever they go. The last travel gift is not something you can take on a plane, but when you're travelling by car or by train, you can use this. It's a little cocktail kit, with this kit you can make yourself a delicious cocktail everywhere you go.
Fashion gifts
The gift guide includes three fashion gifts. They are both accessories they can use on a daily basis. The first gift is a belt, in my opinion, a good quality belt is always an excellent gift for guys and even for girls. The second gift is a cap which is always handy when it's cold. The last gifts are my favourite one which I would love to have myself. It's a key necklace from The Giving Keys. The Giving Keys give the homeless a job by letting them engrave the key. They engrave words like 'hope' or 'brave' or 'dream'. There are many options, but the meaning behind is that you give a key with a chosen worth which the person who gets the key needs. When they find that they achieved what's on the key, they have to give the key to someone that needs it. For example, I would love to have a key with the words 'let go' because, in my opinion, I have to let go of my worry's and thoughts. When I achieved in letting my worries go, I have to give this key to someone else who needs to let go. There are a couple of basic words from which you can choose but you can also add a custom word.
Beauty gifts
The first beauty gift I already mentioned, and it's the beard kit. The second beauty gift is an electric shaver, a good shaver is always a good gift for guys. I got my boyfriend the Braun series 3 wet & dry electric shaver last year. The last beauty gift is perfume. I love it when guys where a good perfume and I love it when I can choose the perfume. If you don't know which fragrance he likes, you can always buy a gift card for a perfume shop!
Tech gifts
My boyfriend is a real tech lover so of course, I have a lot of tech presents. The first gift is an HP Sprocket; it's a printer that prints the pictures from your phone. The next gift is an Osmo Mobile from DJI; it's a stabilizer for your phone to make good videos. The third gift is a phone case or a laptop sleeve. They are both good gifts for a guy or girl. The next gift is a Beats headphone, I have one myself and I really recommend these headphones. I always use these and I don't want to use any other headphone ever again. The last gift is a gift that you can't give to everybody because not all the phones can use this already. It's a wireless charger which you can use for example an iPhone x or iPhone 8 / 8 plus. You can charge your phone just by laying it on the charger.
Those were all the gifts from the gift guide. My dad and boyfriend approved this gift guide, they both thought they were all fun gifts to get. Unfortunately for them, I didn't buy all of these for them. They'll have to wait until Christmas to know what they got. If you need some inspiration for gifts for girls, you can read my blog 'DIY Christmas gifts & my Christmas wishlist' from last week where I show you my own wishlist! I hope you got some inspiration, tweet me or let me know on Instagram if u got one of these gifts and let me know what you asked for Christmas.