Get the look: Aspyn Ovard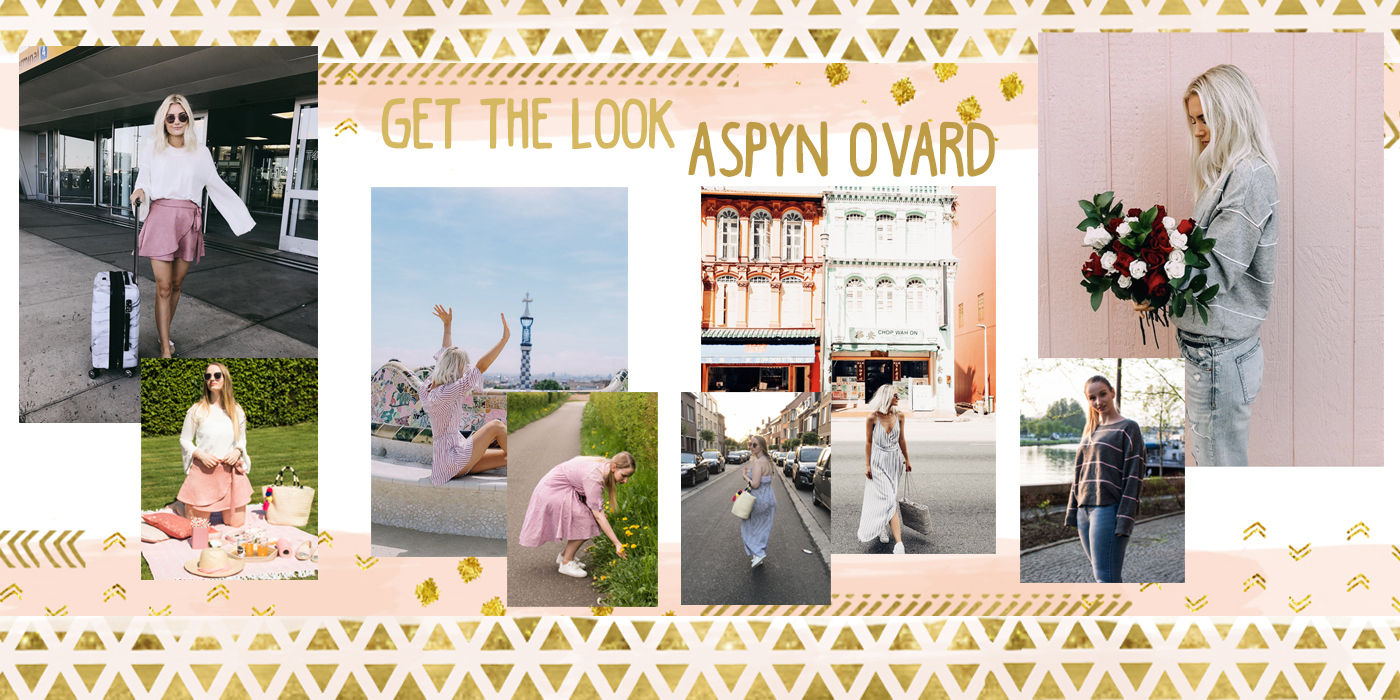 Hi guy, in today's blog I recreate the outfits of my favourite YouTuber/blogger. In this blog, I'm doing a get the look blog for Aspyn Ovard. Let's get into it!
I have been working on this get the look blog for months. And it's finally here; my get the look for Aspyn Ovard. I did it a little bit different than last time. I didn't recreate the picture as I did with Negin. But I'm so excited, and I think I did a great job in recreating the outfits. Before we start: I will try and link all the Items at the end of the blog. Enjoy!
Look 1: Little pink skirt
The first look I recreated is one she wore in front of the airport. It's a little pink skirt, it's so cute, with a white top with bell sleeves. As shoos she's wearing espadrilles slippers. She finishes the look with black sunglasses.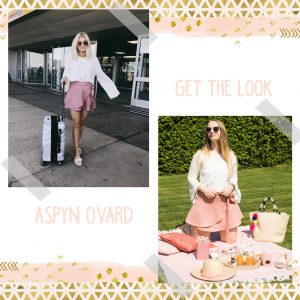 So I bought my pink skirt from a boutique here in town called Peach Fashion Boutique. When I saw this skirt, I had to buy it immediately. And by immediately I mean: ordering it while boarding on my flight in Dublin and paying it when I landed in Bruxelles. My white top and my shoes are from ASOS. I decided to go with espadrilles in the same-ish colour. I'm more comfortable in espadrilles than in slippers. In my opinion, you should wear what's comfortable for you. My sunglasses are from Primark, and I love them.
Look 2: Red striped dress
How I wish I were in Barcelona as well to take this picture … But it's not about the location; it's about the clothes. Aspyn Ovard is wearing in red and white striped dress from her clothing store Luca and Grae. Her shoes are white Adidas.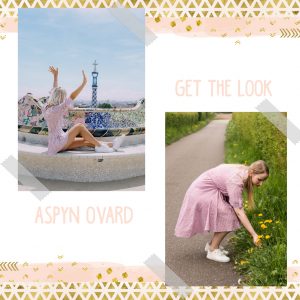 I bought my red and white dress on Forever 21. It longer at the back and shorter in the front. It's comfortable and flowy. My shoes are from Even&odd; they are white sneakers with satin laces.
Look 3: Grey sweater
Even though it's summer, I love Aspyn's sweater collection so I couldn't resist recreating a sweater look. So I chose this one. Aspyn is wearing a grey sweater with white stripes and light wash jeans.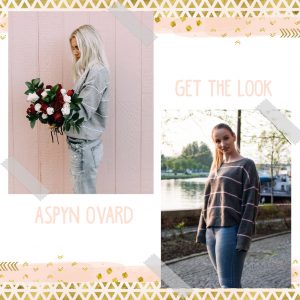 I am wearing a grey sweater with pink stripes from H&M; I swear this sweater is so comfortable and so soft! My jeans are from Pimkie; it's a pair I already had. I think it's important to look at your own clothing as well when recreating a look and not only buying stuff.
Look 4: Maxi dress
The last look is one she wore in Singapore. It's a striped maxi dress with white sneakers and a woven bag.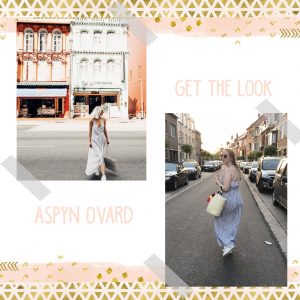 I am wearing a blue and white maxi dress from forever 21. This is my favourite clothing item that I got for this get the look. My sneakers are the same ones from Even&Odd. And my sunglasses are also the same ones from Primark. My woven bag is also from Even&Odd, and I'm in love with it.
Clothing Items
Pink bow skirt – Peach fashion boutique
White top – Asos (*)
Espadrilles – Asos (*)
Red white dress – Forever 21 (*)
White sneakers – Even&Odd
Grey sweater – H&M
Blue white dress – Forever 21 (*)
Woven bag – Even&Odd
Links above marked with a "*" are affiliate links – which means I receive a percentage of the revenue made from purchasing products through this link
I hope you liked this blog, if you recreate one of these outfits with the items I showed you, let me know on Instagram or Twitter! Also, let me know who I should take for my next get the look. And don't forget: I'm also on bloglovin.