4 wedding outfits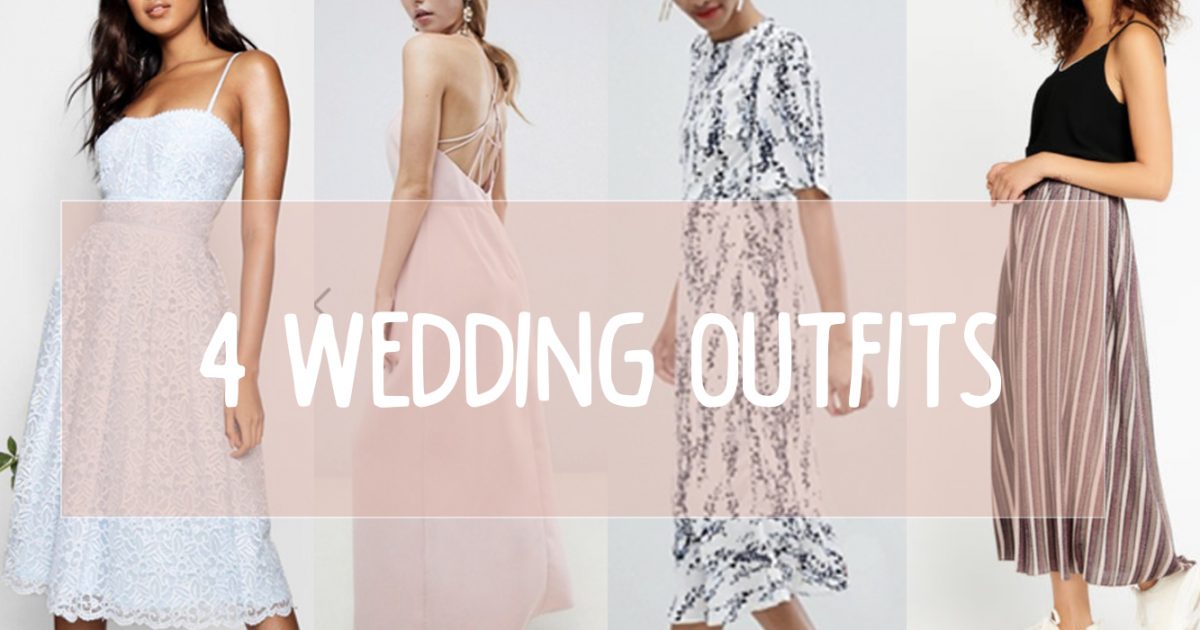 Hi everyone, in today's blog I'm showing you 4 outfits that I put together to go to a wedding. And find out which outfit I'll be wearing. Let's get into it!
So I got this idea from Foreverfi's blog. Check out the outfits she put together. They are absolutely stunning. Since I'm attending a wedding I decided to do the same as her and create 4 different outfits I can wear to the wedding. I tried making all these outfits under €130.
One dress, two options
This first option is a beautiful dress that you can wear in two styles. The first style is by making it young and fun by using a red bag and silver jewellery. You can also make it more classy and romantic by using gold and nude accessories. I also used light blue sandals for this outfit to match the light blue in the dress. The outfit, shoes and accessories included the classy romantic version costs +/- €102. The young and fun version is +/- €110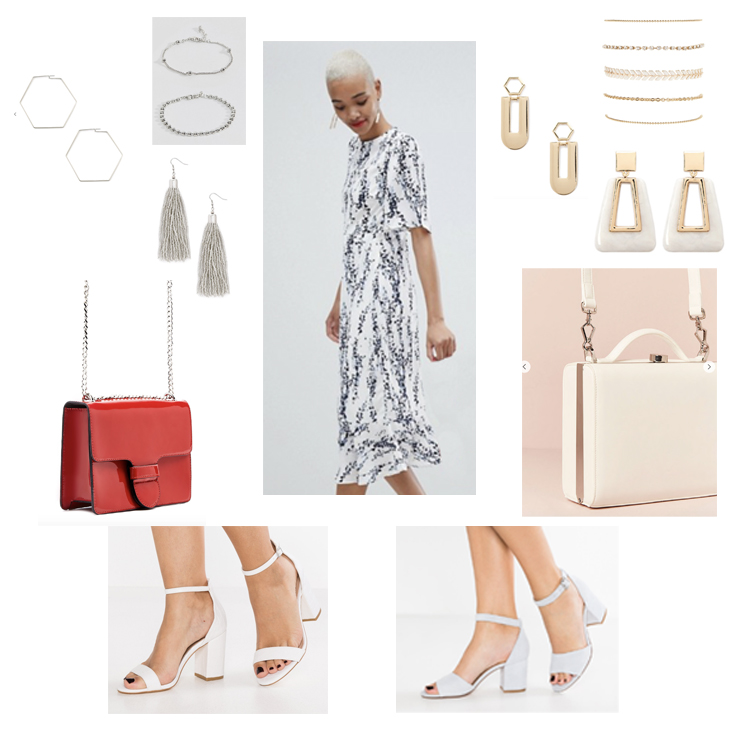 Dress* – ASOS
Shoes light blue – ZALANDO
Shoes white – ZALANDO
Earrings gold 1* – Forever 21
Earrings gold 2* – Forever 21
Earrings silver 1* – Forever 21
Earrings silver 2* – Forever 21 (only gold left)
Bag Red* – Forever 21
Bag Nude – Forever 21 (not available anymore)
Bracelets* – Forever 21
Bracelets silver* – ASOS
Romantic Baby Pink
The second one is a very romantic outfit. I really love this pink dress, the back of it is really stunning. In my opinions, this dress asks for romantic accessories which is why I went with white and gold tones. It costs +/- €110.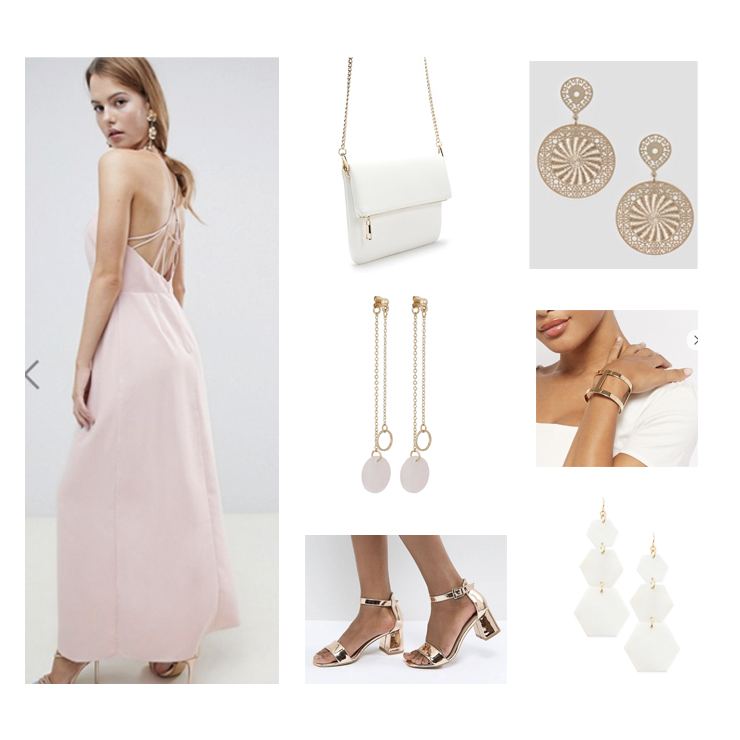 Dress*– ASOS
Shoes* – ASOS
Bag* – Forever 21 (not available in white anymore)
Earrings* – ASOS
Earrings – can't find them anymore, I'm sorry 🙁
Earrings* – Forever 21
Bracelet* – Forever 21
Classy Blue
The third outfit is definitely for a classy look, the light blue dress that covers till just under the knee. Combined with nude pumps and silver accessories makes this the perfect look for a classy wedding attendee. This outfit costs +/- €110.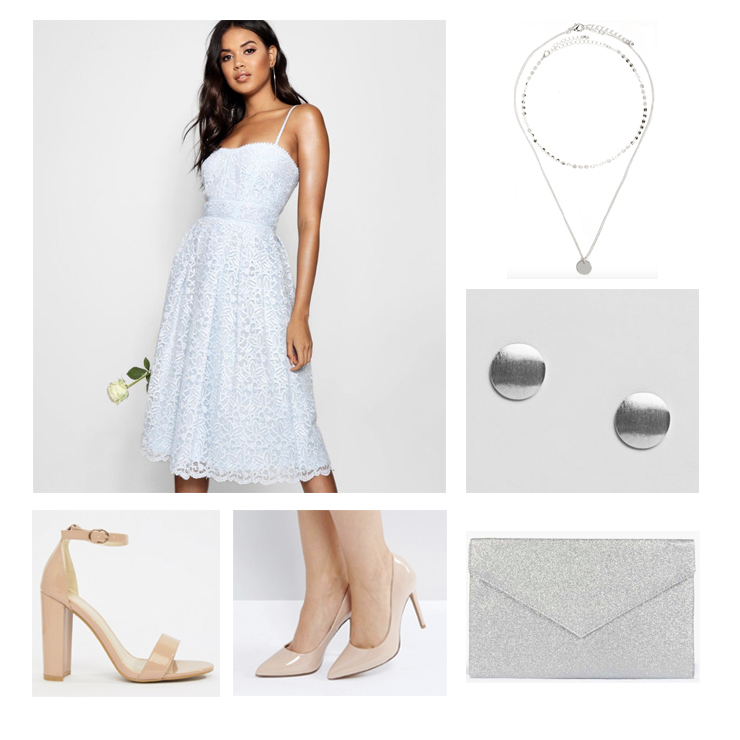 Dress* – BOOHOO
Earrings* – ASOS
Bag* – BOOHOO
Shoes pumps* – ASOS
Shoes sandals* – ASOS
Necklace* – Forever 21 (similar)
Comfy Cute
The last one is a mix of styles. It's comfy and still classy and romantic you can change it by changing the top into a different colour. For example, like the model is wearing it with black, it's more classy, but changing the top into baby pink makes it more romantic. I would prefer wearing it with baby pink because in my opinion black is too harsh and too dark for a wedding. You can also dress it down by wearing sneakers or dress it up by wearing nude sandals. I chose to use mauve and nude accessories to go with it. This full outfit costs €130.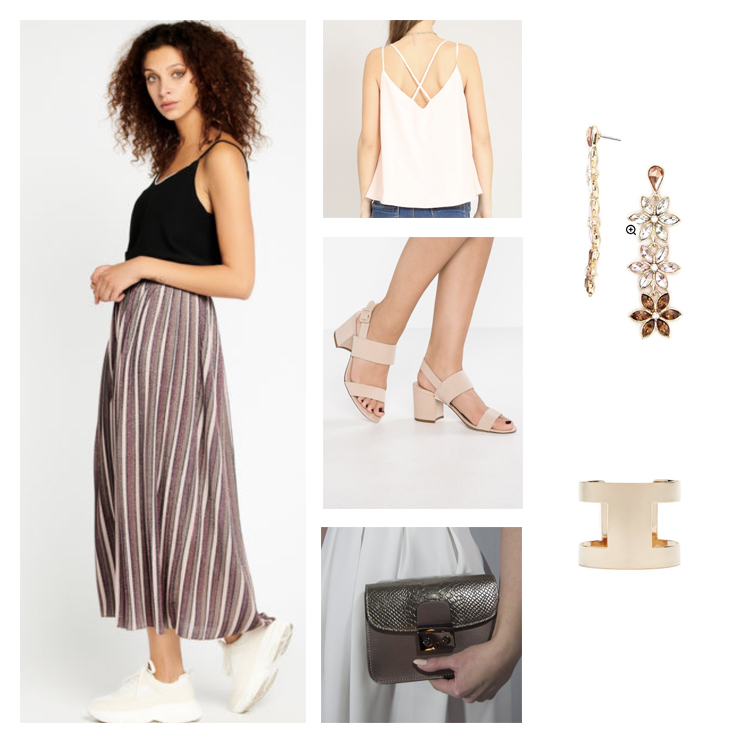 Skirt – Lola & Liza
Top – Pimkie
Shoes – ZALANDO
Bag – Peach Fashion Boutique
Earrings* – Forever 21
Bracelet* – Forever 21
What I wore – the journey of chosing an outfit
Obviously I love all these outfits. So I decided to go for the one dress, two options outfit using nude and gold accessories. Then the dress came and it was too small so I had to search another outfit and I went shopping for another outfit. This is where I found my fourth outfit, the comfy cute one and another dress. I was doubting between the dress and the skirt for a whole week. Eventually, I decided to go for the skirt because I want to be comfortable in my outfit because I have to wear it for a very long time, morning till nighttime.
I hope you loved this blog if you want to see me wearing it follow me on Instagram. I'll put it on there. Don't forget to follow me on Twitter and bloglovin as well.
Sparks and hugs
Links above marked with a "*" are affiliate links – which means I receive a percentage of the revenue made from purchasing products through this link