3-days Dublin City trip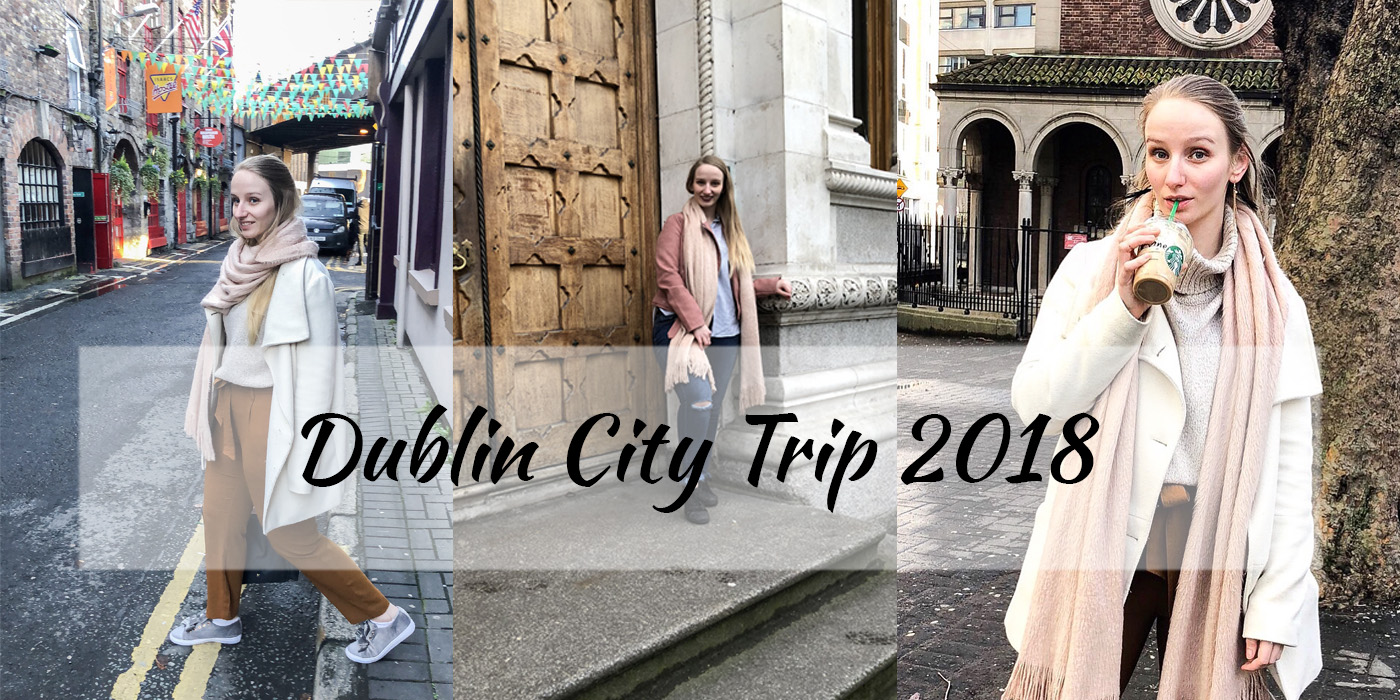 Hi guys, in today's blog I'm going to talk all about our city trip to Dublin. From booking our trip to what we've done and where we ate. So let's get into it!
The booking
We booked our stay at the Gardiner Lodge on hotels.com*. I recommend booking your own hotel when you go on city trip without using a travel agency because, in my opinion, it's cheaper when you do it yourself. Websites like hotels.com have always great deals so if you know you're going to travel, you can always watch out for good deals. We booked our flights with Ryanair and we chose to pay for the priority line. This means we can keep our carry-on luggage with us on the plane and we can get on the plane before anyone else. Great in theory, not so great in reality because of the change in luggage (rules) apparently everybody chose to get priority so the priority line was longer than the normal line.
Traveling & Check-in
On the first day, we travelled from Belgium to Ireland of course. We arrived at the hotel at 13:00. They already let us in our room even though the check-in time is 14:00. We stayed at the Gardiner Lodge hotel, our stay was great but our room was really small. I have wider hips which made it difficult to even move around the room because the bed took all the space in the room. I have a normal size so it's not that I'm fat, it's just to let you know how small the room was. The receptionist did say at the end of our visit that they are building 12 new rooms and that the room that we had would probably go away.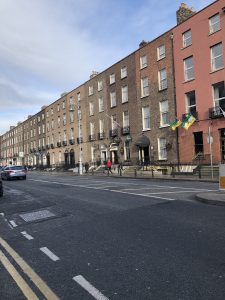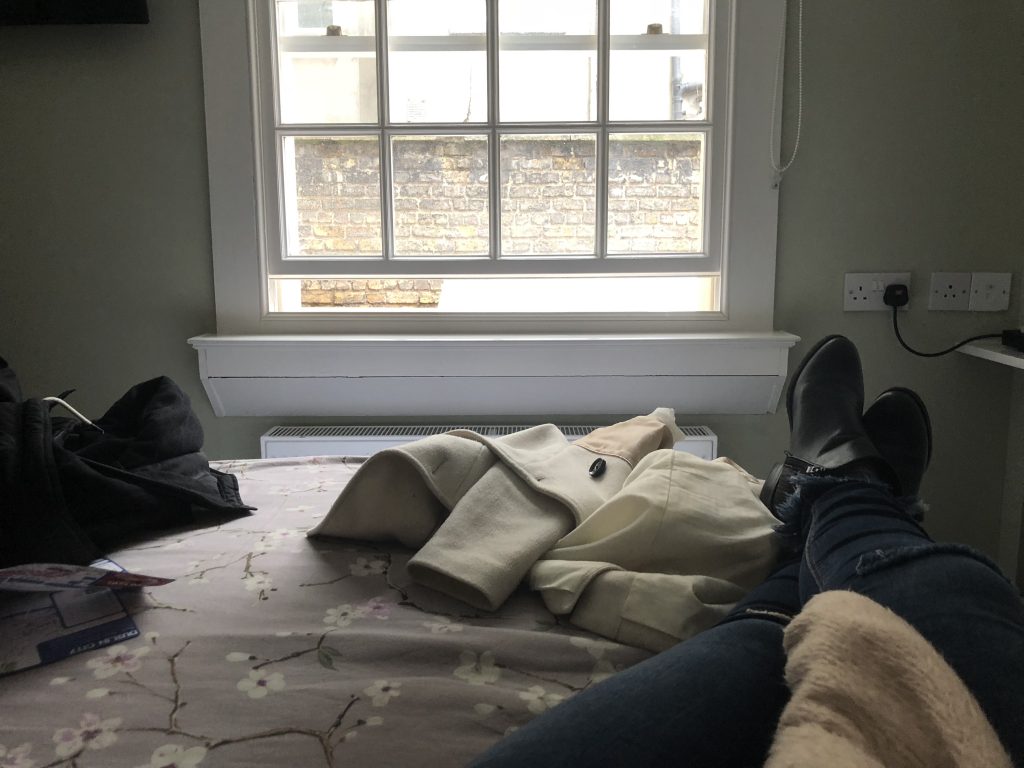 Exploring Dublin & Trinity College
After chilling in our room for a bit we went out and explore the city. We walked around and went to Trinity College where we visited the library and we went to take a look at the book of kelts. In my opinion, it's a must to go visit this library when you're in Dublin because of the history of it. However, in my opinion, it was a little bit too expensive to enter the library. Afterwards, we went to the national museum but that just wasn't my cup of tea, we went out there really quick. Afterwards, it was already time for dinner and I was really craving for some Burger King so that what we ate. We end the day with watching Lalaland in our hotel room because we were so tired! We were already awake for 20 hours so we could really use some sleep.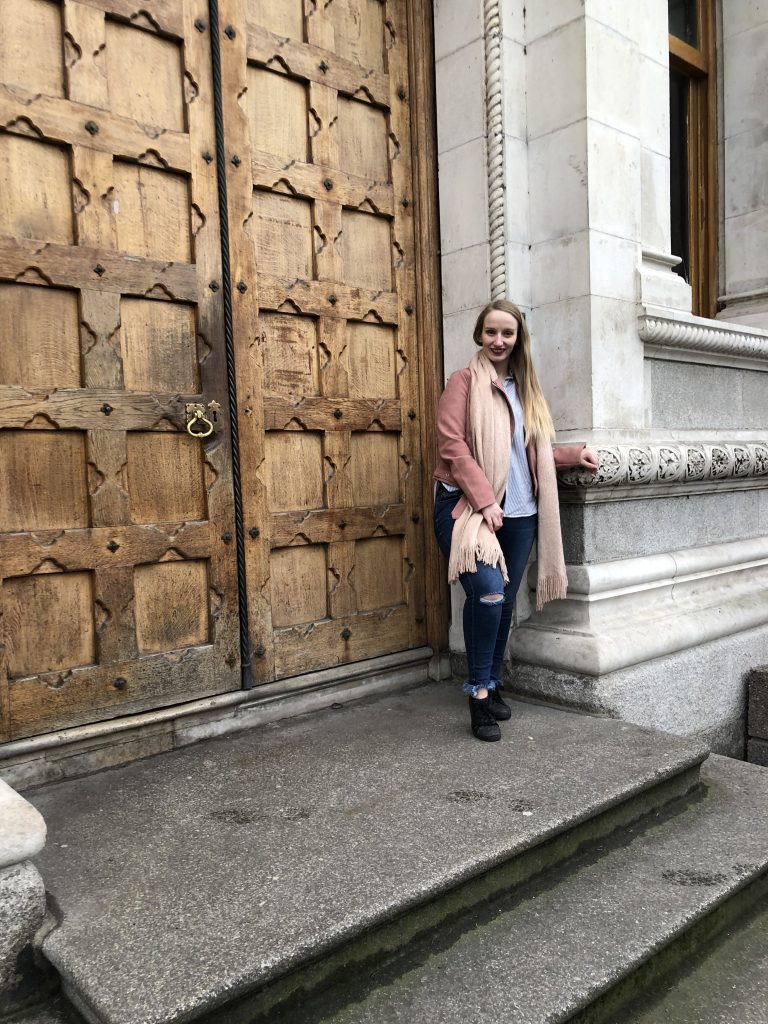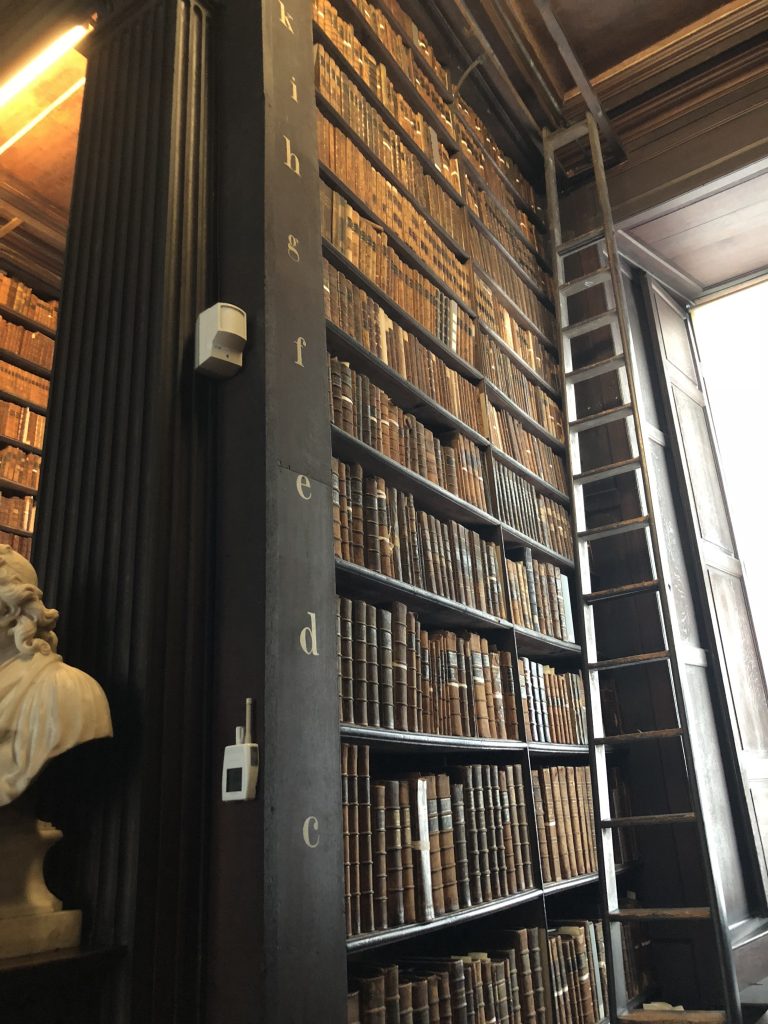 Kilmainham Gaol
We started our day with breakfast of course. We ordered breakfast in our hotel, we had bacon, eggs and toast. It was delicious but unfortunately, it wasn't that special. Just a regular breakfast. Afterwards, we took the tram to Kilmainham Gaol. This was absolutely my favourite thing in Dublin, the guide was awesome, the story behind the jail is unbelievable and it's an opportunity to learn more about the history of Dublin and to learn more about this jail. We actually broke the rules when going there because we didn't know there were guided tours at certain hours. When we arrived there, the previous tour just started and the next one was in 45 minutes. So the guy at reception got us tickets for the previous one and we had to run alone through the jail to catch up with the group. So get your tickets before going there! It's absolutely worth visiting the Kilmainham Goal! It does take a while to go to the jail, but we bought a Leap Visitor card when we arrived. The card is €19,50 and it includes your transport from the airport and back, and you can take all the busses and trams in the city except for the hop-on-hop-off buses.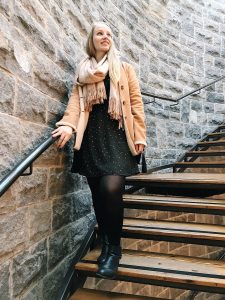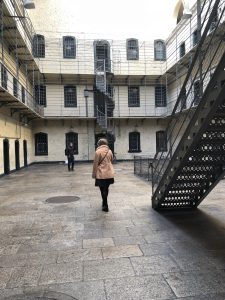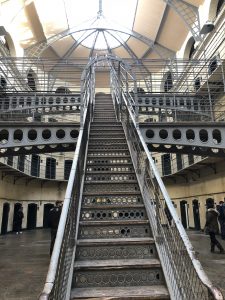 Guinness Storehouse
After Kilmainham Goal we took the bus to Guinness Storehouse Museum. Before telling more about the museum it was too expensive. It's €25 for an adult to enter and in my opinion, Guinness already earns enough money so they can lower the price! The hotel wasn't worth the price but it was an awesome museum. They also give you the opportunity to try a Guinness sample and to pour your own beer which you can have afterwards. Before leaving the museum you must visit the gravity bar which gives you a breath-taking view of Dublin.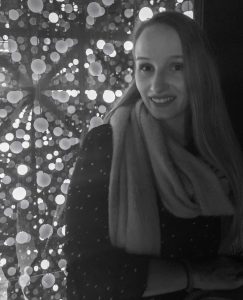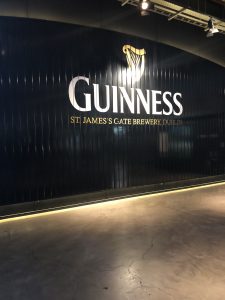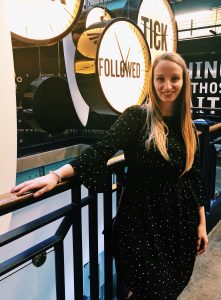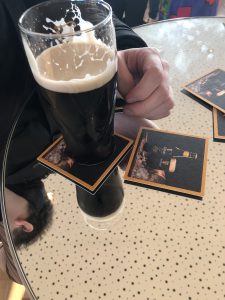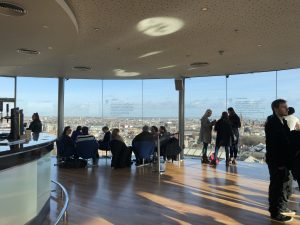 Food please
We went for lunch on Tuesday at the Food loft at Jervis Shopping Centre. I really loved this place as you could see on my Instagram Story. The food loft is a place where you can sit and eat with your friends. Nothing special, you could think. But I thought it was special because there were 4 restaurants with 1 mutual seating area. So when you go with multiple people and each and one of you wants something different to eat you can now get the food you like and still sit together! We got our food at O'briens, I got a ham and cheese toast and Tjebbe got a bagel.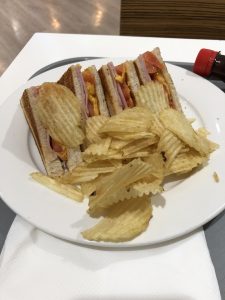 For dinner on Tuesday, we went to this super cute tapas restaurant, I really loved it and the food was really good. So we ate at Cactus Jacks and we got some tapas to share. What we got were calamares rabas, nachos de queso, patatas with garlic mayo and pincho de pollo. For dessert, I got the sticky toffee pudding and my boyfriend got a mix of 3 kinds of ice cream.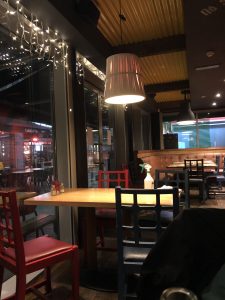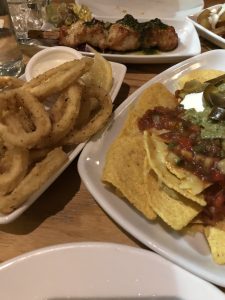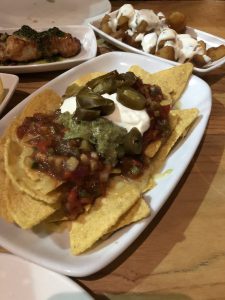 On our last day, we got donuts from Offbeat, this was our lunch because we wanted to eat "real" food just before taking off so we would survive without starving until we were home. The donuts we got were the one with sprinkles, the Nutella one and one with Kinder Buono. The last one was my favourite.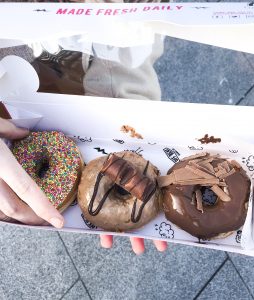 Shopping
I ended up going to many clothing stores but not buying anything. Dublin has all the good shops so if you just want to go on a shopping trip, Dublin is perfect for that! Everything is on a walking distance when you stay at the Gardiner Lodge. There's a mall at 10 minutes walking and the biggest shopping street is at only 15 minutes by bus or 20 minutes by walking.
I really enjoyed our stay at Dublin and I'm definitely going back! I hope I convinced you on going as well. If you want to stay tuned on the trips that I'm making, follow me on Instagram! I hope you loved this blog. See you next week!
Links marked with a "*" are affiliate links – which means I receive a percentage of the revenue made from purchasing products through this link.